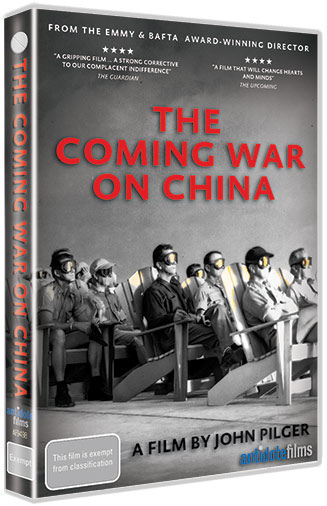 John Pilger in, The Coming War on China, dares to ask why
"A gripping film … a strong corrective to our bland and complacent indifference"
– Peter Bradshow, The Guardian 

<h3>Watch The Trailer...</h3><!-- [et_pb_line_break_holder] --><iframe width="560" height="315" src="https://www.youtube.com/embed/9SkCo0SqG3Y?&rel=0&showsearch=0&modestbranding=1" frameborder="0" allowfullscreen></iframe><!-- [et_pb_line_break_holder] --><!-- [et_pb_line_break_holder] -->
Is the USA on the path to war on China?
Could Australia be drawn into a battle between two nuclear superpowers?
John Pilger's acclaimed film, The Coming War on China, provides a gripping and timely wakeup call, exposing a massive military build-up on our doorstep.
"…Pilger characteristically explores the opposite angle, questioning the ultimate purpose of a whole phalanx of US bases from Australia through the Pacific to South Korea and Japan – all pointing their weaponry at China." – Trevor Johnson, Radio Times 

Digging beyond the headlines of the mainstream media, Pilger's investigative journalism skills, deliver an insightful and necessary documentary.
What becomes apparent, is America's determination to stamp their authority on the region and the growing threat of nuclear war.
Pivot to Asia and an Increasing Nuclear Threat
While many overlooked the significance of Barack Obama's announcement to the Australian parliament in 2011 of a strategic "pivot to Asia", Pilger did not…
This film examines the actions of the US before and after this announcement, and China's response to this increasing escalation.
Now, with Donald Trump as US president, and increasing tension with China and North Korea, particularly involving nuclear weapons capabilities, Pilger's film has a relevance that is impossible to ignore.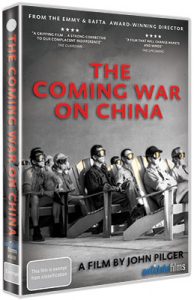 From: $29.95Select options
"John Pilger's new documentary The Coming War on China ought to be a film of urgent interest, given the not insubstantial possibility that the war in question might wind up killing us all."
 – The Age
Director: John Pilger
Running Time: 1hr 53 minutes
Rating: Exempt from classification
The Coming War on China is an absolute 'must see' in creating an understanding of what is happening beyond the sound bites of the daily news. Secure your copy of the DVD today and take advantage of the limited pre-order offer!
*Postage is $3 for orders within Australia and $7.20 for New Zealand orders. For non-private use purchases (e.g. schools, libraries & community groups), click here for the full product listing and select the required license type from the options available. For screening requests and other queries related to the film, contact us. To receive our regular specials and promotional offers subscribe here.
<h3>From the director...</h3><!-- [et_pb_line_break_holder] --><iframe width="560" height="315" src="https://www.youtube.com/embed/vi6xwL99Om4?&rel=0&showsearch=0&modestbranding=1" frameborder="0" allowfullscreen></iframe><!-- [et_pb_line_break_holder] --><!-- [et_pb_line_break_holder] -->
Reviews
"The kind of stark warning we need" – John Bleasdale, Cinevue

"A film that has the power to change hearts and minds is always worthy of recognition and John Pilger's 60th anniversary piece, The Coming War on China, certainly knows no bounds." – Chloe Sizer, The UpComing (UK).
The Coming War on China, is directed by John Pilger and distributed in Australia and New Zealand by Antidote Films.
© 2017 Antidote Films. All rights reserved | Terms | Contact |