Genre: Documentary
DVD: Available Now
Format: DVD
Rating: M – Mature themes and coarse language
Run Time: 95minutes
Languages: English
Director: Dr Trevor Graham
Monsieur Mayonnaise
An epic true story adventure starring artists, werewolves, heroes, Nazis, a comic book & baguettes ….with lashings of French mayonnaise!
Monsieur Mayonnaise is an artist's epic adventure into his family's secret past. Australian artist and film-maker, Philippe Mora, investigates his father's clandestine role in the French Résistance in WW2 and his mother's miraculous escape enroute to Auschwitz. Philippe, a Hollywood cult-horror movie director and pop-artist, adopts a Film Noir persona to tell his family's story. He also packs his paints and easel, as he embarks on a journey to create an audacious comic book about his parents, their survival and the Holocaust. From LA to Berlin, Paris to Melbourne, Monsieur Mayonnaise is a richly layered, road movie starring artists, real life heroes, Nazi villains … and baguettes with lashings of tasty French mayonnaise!
Monsieur Mayonnaise – Offical Trailer
Published Reviews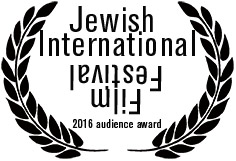 8.4/10 Stars IMDB http://www.imdb.com/title/tt5940256/
Audience Award – Jewish Int'l Film Festival (Australia)
Official Selection
Berlin Int'l Film Festival
Melbourne Int'l Film Festival
"Fascinating! An eye-catching, engrossing romp!"
– Variety
The connectivity of memory, legacy and family is defined with a playful yet profound dexterity in Trevor Graham's soulful, inspiring documentary.
– Screen-Space
A colourful portrait of holocaust heroism.
– The New Zealand Herald
Current Listed Screenings:
CLICK HERE FOR CURRENT SCREENINGS
HOST A SCREENING
We believe films present critical issues, challenge audiences and raise important questions. We invite you to bring these conversations to your community by hosting an inspiring screening of your own!
By purchasing a community-screening license, you can host a free/donation-based admission, or ticketed public screening of the film. Community screenings can take place at fundraising events, group gatherings, and ongoing series for nonprofits, theaters, farms, churches, community organizations and more.
Included in your screening fee
High quality brand new DVD disk of the film, which you keep.
• Screening Guide
• Where possible a Film Specific Discussion Guide
• Screening License
• Promotional Artwork (.pdf files for print)
• Keep the DVD
• Your screening promoted on our website, under the film listing.
• Our email and phone support through the whole process!
Screening Costs
Community Screening
1-50 people – $150
50-100 people – $250
100-200 people – $350
Enquire for Larger Groups, Ongoing Screening Sessions or for Speciality Screenings.