Long time friend and occasional film partner Jim Stevens, has been working on this project for the better part of 20 years. For those of you who are unsure – 20 years is a massive dedication to one particular project. An extended timeline that becomes rife with self doubt, criticism and a general feeling of 'what the f*ck am I doing?' – yet here we are, 20 years later and we are immensly proud to bring you the finished film – Meet the Wallers.

WORLD PREMIERE SCREENING!
A happy, aussie couple with two beautiful daughters, living the middle-class life in Lennox Head…what could possibly go wrong?
Depression, artistic obsession, charity, money, sibling rivalry, the mortgage, mysticism, the neighbours, rapacious developers, not to mention cancer.
Issues abound in Meet the Wallers, yet just like life, not one particular thing takes centre stage for very long. The film observes the intriguing story lines that, in retrospect, define our very existence.
In a world of Instagram, Kardashians, and staged 'reality' TV shows, Meet the Wallers is a welcomed gust of fresh air. We watch them, like an old friend sitting in the corner. They talk to us,  they fight, face their personal challenges and material struggles.
We are permitted into their unhappiness without filters, and allowed to understand their commitment to overcome the obstacles that try to push them down.
As the years continue to pass onscreen, we begin to ponder: what makes a happy marriage? What stops us from being happy?
Mark Waller is an artist who believes his beautiful paintings can touch the darkest of hearts and make them generous. His wife Nicole suffers depression and needs to understand why. Their daughters Emily and Jasmine are the future.
When Mark is diagnosed with cancer, followed by emergency surgery, all the family's concerns are thrown into stark relief and we come to learn the true meaning of 'existential', no longer just a vague #hashtag or carefully placed meme on social media, but a genuine interest in human existence.
Over the 20 year journey captured in the film, we are presented with the question: How can we change the world if we cannot change ourselves?
Meet the Wallers is a real-life story that offers personal reflection on one's own life as well as the delights of a truly authentic experience.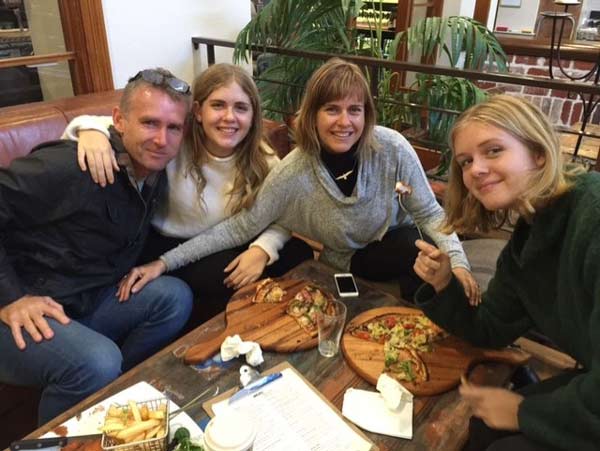 Director – Jim Stevens  |  Producer – Gil Scrine & Jim Stevens  |  Executive Producer – Judith Ehrlich
Executive Producer – Trish Lake  |  Cinematographer – Jim Stevens  |  Editor – Michael Craft